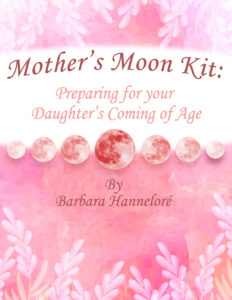 In the Mother's MOON Kit you'll find ideas for simple Coming of Age ceremony, things to write and draw, gifts, and links for practical matters such as menstrual products. Ideas for conversation and moon-watching.
Lots of self-care for mom as well as daughter!
In the Mother's MOON Kit online guide, you'll find suggestions for reviewing your OWN coming of age, which will be SO valuable
as your daughter approaches that age, herself. Your "inner girl" will appreciate your attention, just as your daughter will.
Then table of contents