The Moon and You – A Woman's Guide to an Easier Monthly Cycle
In this award-winning book, Barbara Hannelore provides simple steps to regain confidence in yourself and your abilities. If you struggle with your menstrual cycle, feel out-of-balance and discouraged for part of every month, or just want to know more about the mystical connection between women and the moon, this book is for you!
---
Mother's MOON Kit – Preparing for Your Daughter's Coming of Age    New!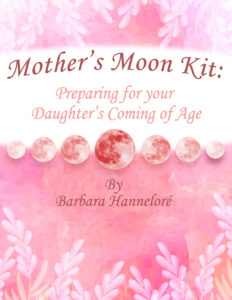 An online resource to support moms in finding the conversations, activities and inner guidance to welcome girls through the Coming of Age threshold!